Isis and Vesco Investigate the
Curious Death of Dr. Freud

by Monique LaForce

Murder!, Romance!, Spies!
A witty mash-up of genres and time periods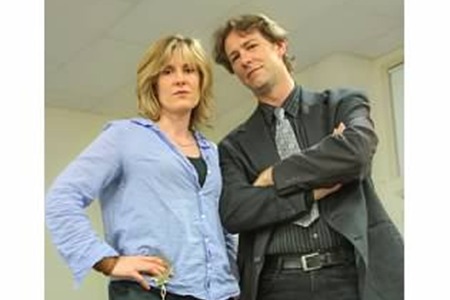 She's a goddess.  He's a felon.  Together, they solve crimes.



A psychoanalyst is dead.  Enter an Egyptian goddess/NYPD detective and a fugitive financier.  Can this duo navigate a range of suspects -- not to mention an electric attraction -- to solve the case?


DIRECTOR:
PRODUCER:
CHOREOGRAPHER:
COSTUMES:
Carl Brandt Long
Catherine Aselford
Melissa Bustamante
Miranda Creasy

Cast and Crew:
Sun King Davis, Cate Brewer, Paulo Santayana, Michelle Hall,
Catherine Aselford, Terence Aselford, and Katie Jeffries

Fort Fringe -- Redrum
July 12 at 9:30 p.m.
July 18 at 6:00 p.m.
July 20 at 1:30 p.m.
July 24 at 7:45 p.m.
July 26 at 4:00 p.m.

for more information about the play visit:
http://www.isisvescofreud.com

Read the reviews:
DCMetro Theatre Arts says "Isis and Vesco is innovative and fun theater
DC Theatre Scene says "Fine indeed...crackles with sexual tension..."

This production is presented as a part of the 2014 Capital Fringe
Festival, a program of the Washington, DC non-profit Capital Fringe.