Gianni Schicchi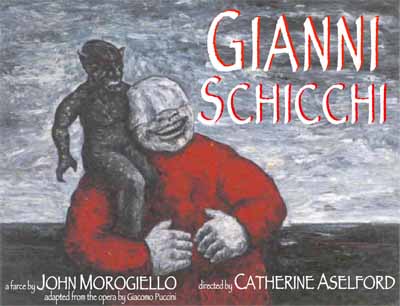 What's a greedy family to do when their rich patriarch leaves his estate to the church?
Hire poor farmer, Gianni Schicchi, to find a way around the will!

J.T. Burian Theatricals and The Georgetown Theatre Company (the people who brought you IRISH AUTHORS HELD HOSTAGE and JACK THE TICKET RIPPER) present the perfect combination of classic literature and intellectual silliness:  John Morogiello's hilarious farce adaptation of GIANNI SCHICCHI.  Set in Thirteenth Century Florence, the play is a madcap game of "Follow The Corpse,".

Featuring: Terence Aselford, Scott Courlander, Jim Gagne, Kenny Littlejohn, Carl Brandt Long, Suzie Mellring, Rachel Meloan, John Morogiello, Laura J. Scott, T.D. Smith, and Jonathan Lee Taylor. Directed by Catherine Aselford.





Read the Reviews:


Mr. Morogiello's witty and humorous script, along with the eponymous main character (performed by the playwright), is brought to life by a dedicated cast of eleven. -- Mr. Aselford's take on Betto is a sight to behold -- Ms. Meloan delivers an absolutely riveting rendition of Puccini's classic soprano aria -- it's an aesthetic message that still rings true.
Drama Urge Review

Morogiello commands the stage, to be sure, but the biggest laughs come from Terence Aselford's Betto and Scott Courlander's Marco—a drunken old kleptomaniac and a swaggering young boy toy, respectively. Washington City Paper

Terrence Aselford --is absolutely superb as the disheveled Betto -- At the end of the play, (Rachel) Meloan, who has a fantastic voice, sings the most famous aria from the opera – the beautiful O mio babbino caro – and it imbues the stage with a patina of joy and hope. Even Dante might have smiled. DC Theatre Scene



Listen to the Radio Spot

The show runs from November 5 through 28 at

Randolph Road Theatre
4010 Randolph Road
Silver Spring, MD 20902

Performances: Fridays at 8, Saturdays at 2 and 8, and Sundays at 2.

Not recommended for children under 13.